A bet for the construction of familiar and communal water sovereignty.
The access to basic services and the respect of fundamental rights such as potable water for human use access are the main focuses of the labor for the inequality reduction and social justice construction. Under this premise, as a civil society organization, we look for the promotion of the co-creation of community and familiar alternatives in favor of the potable water access in an autonomous way, doing in this way, a bet for the construction of local water sovereignty.
Along 2019 and some part of 2020, we started a project with the peasant community of Pijaos rural area, in Cucaita town, in Boyacá, for the collective building of a water catchment and purification system that can provide guarantees of water quality access for human use. This job was developed in the hands of the community through the implementation of low cost technological alternatives and, with attributes that favor the local actors' appropriation.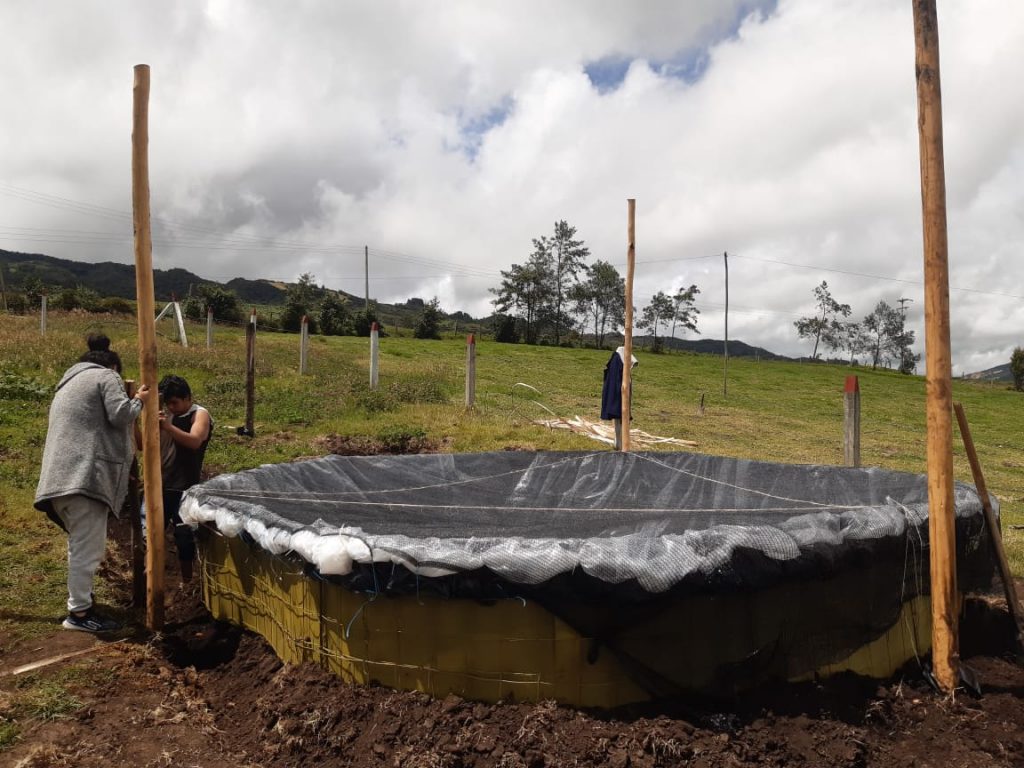 This project conducted to the building of the rain-water and environmental-water catchment, with a capacity of around 60 m3 and 40 purification water systems that benefit, among other, the kindergarten of the rural community of Pijaos.

«These types of initiatives are of great value in a familiar and communal level, since it is about low cost alternatives, easy to replicate and with a great potential of being risen up. It is a great illusion for us that families motivate themselves to build their own systems».
Camilo Otálora, Coordinator of the project
As an additional result of the project, an informational material was design as technic and communicative support of this initiative. A series of 4 brochures created based on the experiences of the project show the importance, the way for building it, and the maintenance processes for rain and environmental water catchment, purification, waste water treatment, and environmental awareness related to the water issues.
Experiences like this one, constitute a change of the conventional paradigm of state intervention, since the community is co-designer, co-creator and owner of the systems that guarantee potable water access. The local actors are, precisely, who discuss in deep about the problematic of their community to strengthen complementary actions of technological, environmental, and social type.
«For regional autonomous corporations the water problem (of a small community) is not that important but, it is everything for us. Because Pijaos is everything for those who live there».
Carlos Castillo, Communal leader of Pijaos rural area in Cucaita – Boyacá
NoteWe invite you to know and spread the brochures and material we share with the community for this project, you will find information about the rain and environmental water catchment and purification system building, greywater treatment system and information about preservation for water catchment. We want that the communities, more and more, motivate to transform their reality.