We believe that communities have a great potential to transform realities from their wisdom, knowledge, and love for their territory. This strongly motivate us to co-create from our experience and theirs to get solutions jointly.
If you belong to a community and want to undertake an initiative with us, don't hesitate to contact us.
We invite you to learn and build together!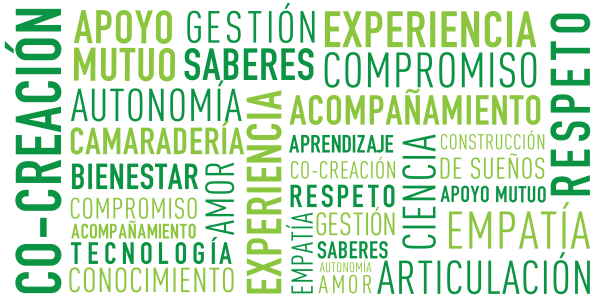 Building together peace territories!
The labor we accomplish together contributes to stablish processes of social appropriation of knowledge which properly respond to the communities' interests and strengthen their social fabric.
Do you offer services for enterprises?
We offer technical counsel to small and medium companies. If you are interested in us working together, contact us through the form "communities" of this website or directly call us to the next phone number (+57) 3112879723
What kind of communities can work with Académicos por Colombia? 
Any kind of group of people with the same interests. Here you have few examples of communities:
- Group of people organized to work with a same purpose.
- Cooperatives.
- Educative Institutions (including parents' associations, students' organizations or any other related to educative scenarios).
- Community Action Boards.
- Community aqueducts or user's boards.
- Producers' Associations (can also be cooperatives or people with similar productive interests, who have demonstrated the intention to work collaboratively).
- Citizen oversight groups.
It is possible you may be part of a community that is not on the list. There is no problem, just contact us and, build it together!
What type of projects?
These are some of the lines of work we have developed projects in:
- Education.
- Arts and sciences 
- Sustainable development 
- Technological development
In order for you to know more about the labor we have developed hand in hand with the communities, we invite you to click on the next links.
If you have an idea or project, you think we can develop. Write us! Let's work together for the same cause.
What are the working modalities?
We support the communities in the construction of ideas, the realization of dreams, and the achievement of goals. This can be carried through a consultancy or through the building and development of projects together.
Science and technology at the service of society - find out how!